Filipino Style Recipe:Garlic Cheddar Chicken is another chicken dish that you can serve to have a variety from your all time fried chicken. It has lots of cheese so your kids will surely love.
Ingredients: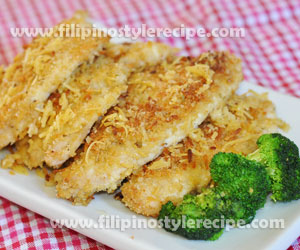 8 pieces boneless chicken breast, cut into half and pound thin
1/2 cup butter
4 cloves garlic, minced
1/2 cup bread crumbs
1 pack cheddar cheese, grated
1/4 cup Parmesan cheese, grated
1/4 teaspoon black pepper, ground
1/4 teaspoon dried oregano
1/4 teaspoon salt
Procedures:
Part 1
1. In a pan over low heat, melt butter then add garlic. cook until the garlic is tender. Set aside.
2. In a wide bowl, mix bread crumbs, cheddar cheese, Parmesan cheese, salt, pepper, and dried oregano.
3. Brush or dip each chicken with the garlic butter mixture then press into the cheese mixture.
4. Arrange chicken in a baking dish. Drizzle any remaining butter and sprinkle any remaining cheese mixture.
5. Bake in preheated oven at 350 Fahrenheit for about 30 minutes. Once cooked, remove from oven, server and enjoy!