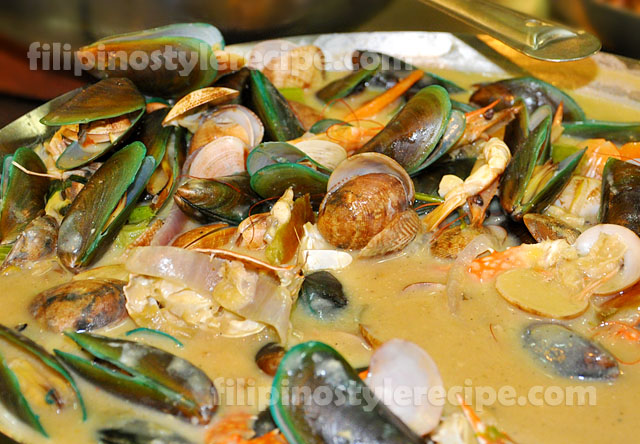 Ingredients:
5 pieces crabs, halves
1/2 kilo Mussels
1/2 kilo clams
1/2 kilo shrimp
1 cup coconut cream (1st extract)
2 cups coconut milk (2nd extract)
1 head garlic, crushed
2 thumb-sized ginger,pounded
2 onions, chopped
2-3 tablespoons shrimp paste
2-3 pieces green chili(siling haba)
salt and pepper to taste
Procedures:
1. In a saucepan, heat oil and saute ginger, garlic and onion.
2. Add shrimp paste and stir cook.
3. Pour coconut milk then bring to boil for 5 minutes or until reduced.
4. Add crabs and cook until color changes.
5. Add clams and mussels then cook until shells open.
6. Pour coconut cream then add shrimp and green chili. Cook until color turns to pink.
7. Adjust seasoning with salt and pepper according to taste.
8. Simmer for a few minutes until reduced then serve hot.