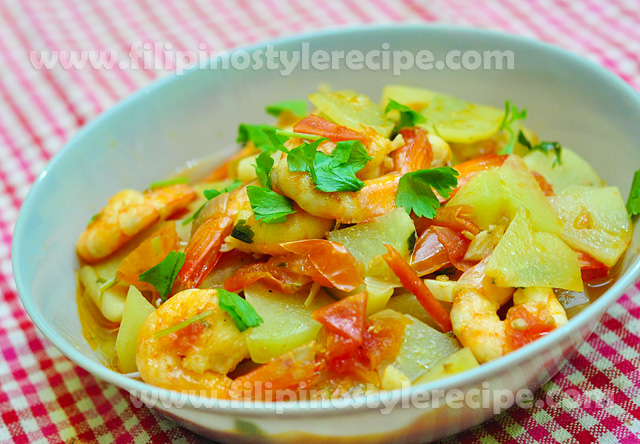 Ingredients:
300 grams shrimps, peeled and deveined
2 pieces chayote(sayote), peeled and cut into small pieces
5 cloves garlic, minced
1 onion, chopped
2 tomatoes, cut into cubes
5 stalks cilatro, chopped
2 1/2 cups water
3 tablespoons vegetable oil
fish sauce, salt and pepper to taste
Procedures:
Part 1
1. In a pan, heat oil then add shrimps.
2. Season with salt and pepper then cook until starts to turn pink. Remove and set aside.
Part 2
1. In a same pan, saute garlic, onion, cilantro and tomatoes.
2. Add chayote then stir cook for a minute, pour water then cover and bring to boil. Add water if necessary.
3. Season with fish sauce and pepper then simmer for 3-5 minutes or until tender.
4. Put back the shrimps then cook for another minute.
5. Transfer to serving bowl then garnish with chopped cilantro. Serve.