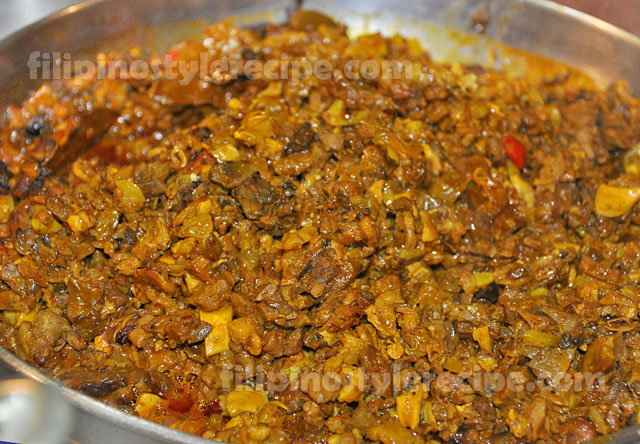 Ingredients:
1 kilo chicken gizzard and heart, cleaned
5 gloves garlic, minced
1 large onion, chopped
2 thumb-sized ginger, minced
1 1/2 cups water
3 pieces dried bay leaves(laurel)
1 medium red bell pepper, cut into small cubes
2 medium carrots, cut into small cubes
1/2 cup green peas
3 tablespoons soy sauce
1/2 cup vinegar
4 red chili(labuyo), chopped(optional)
4 tablespoons annatto oil
salt and pepper to taste
Procedures:
Part 1
1. In a pot, pour enough water then add gizzard and heart. Boil for 30-40 minutes or until tender.
2. Drain and let it cool. Chop into small pieces and set aside.
Part 2
1. In a pan, heat annatto oil then saute ginger, garlic and onions.
2. Add chopped gizzard and heart then saute to 2 minutes.
3. Add chili and bay leaves then pour soy sauce. Stir cook.
4. Pour water then cover and simmer for 10 minutes.
5. Pour vinegar and bring to boil.
6. Add vegetables and season with salt and pepper. Cook until tender.
7. Transfer to serving plate then serve.