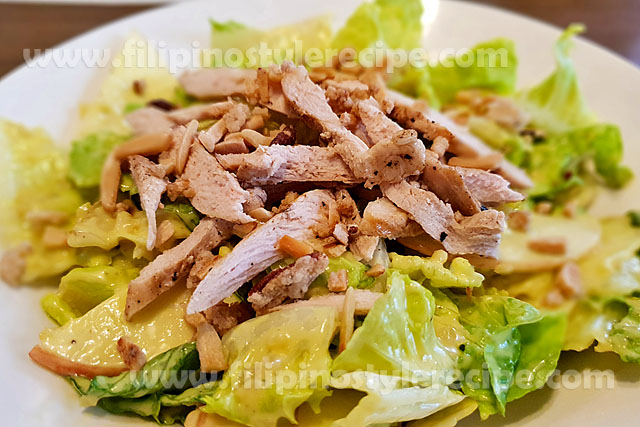 Ingredients:
1/4 kilo chicken breasts or fillet
1/2 teaspoon garlic powder
1/2 teaspoon cumin powder
1/2 teaspoon Spanish paprika
salt and pepper to taste
1 fresh apple, sliced thinly
1/4 cup unsalted roasted almonds, coarsely chopped
lettuce leaves, cut into serving pieces
1/4 grated Parmesan or cheddar cheese (optional)
3/4 cup salad dressing(Dijon, honey mustard or any dressing)
Procedures:
Part 1
1. Pound chicken breasts then season with salt, garlic powder, cumin, paprika and ground pepper.
2. Grill for 20 minutes or until cooked.
3. Let it cool then cut into strips. Set aside.
Part 2
1. In a large bowl, arrange lettuce then top with sliced apple, almond and grilled chicken.
2. Pour the salad dressing then toss to combine.
3. Sprinkle with grated cheese then serve cold.