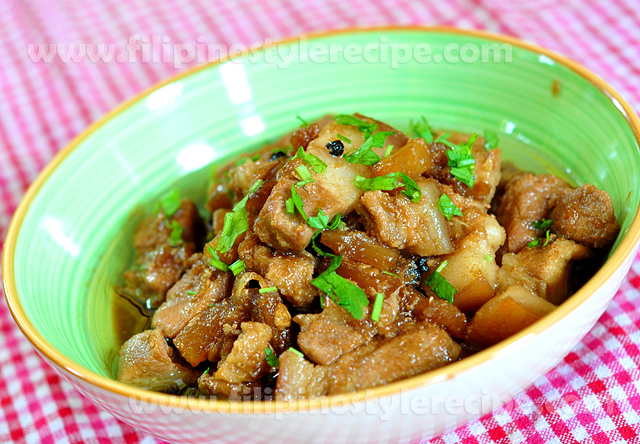 Ingredients:
500 grams pork, cut into serving pieces
1 cup pineapple chucks or tidbits, cubed
1/2 cup pineapple juice
4 tablespoons soy sauce
1 pork bouillon
3-4 cups water
1 large onion, chopped
5 cloves garlic, minced
2 tablespoons cooking oil
1 1/2 tablespoons sugar
salt and pepper to taste
chopped parsley for garnishing
Procedures:
1. In a pan, heat oil then saute garlic and onion.
2. Add pork the saute until light brown.
3. Pour soy sauce, pork bouillon and water then simmer for 40 minutes or until tender. Add water if needed.
4. Add pineapple, pineapple juice, sugar, salt and pepper. Cook for another 3 minutes.
5. Transfer into serving plate then garnish with parsley. Serve.