Filipino Style Recipe: Shredded Fish Penne recipe is my invention during the holy week. It is a low calorie dish that is full of flavor. It is basically made of left over paksiw fish that is shredded and cooked in olive oil, tomatoes, and others.
Good for 3-4 servings
Estimated time of preparation and cooking: 40 minutes
Ingredients: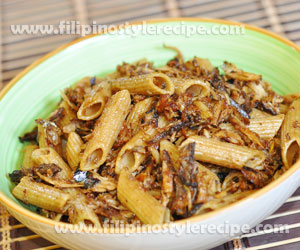 250 grams whole wheat penne pasta
2 pieces tulingan
1/4 cup vinegar
3 cloves garlic
3 tablespoon olive oil
4 pieces tomatoes
4 pieces anchovy fillet
2 tablepoon olives
fish sauce
salt and pepper
pinch of chili flakes
Procedures:
Part1
1. Cook fish in vinegar, salt, and pepper.
2. Once cooked, let it cool. Remove meat from head and bones, then shred.
Part 2
1. Cook pasta according to package instruction. Drain and mix olive oil. Set aside.
2. Over low heat. saute garlic until transluscent. Add the anchovies and olives then stir until flavor and aroma comes out around 2-3 minutes.
3. Turn heat to medium then add the tomatoes and saute until soft.
4. Pour the shredded fish and cook for around 5 minutes. Add the chili flakes.
4. Add the cooked pasta and season with fish sauce. Mix well until well combined.