Filipino Style Recipe: Seafood pansit bihon guisado is another variety of popular Filipino dish consists of cornstarch noodles(bihon). The bihon is usually soak and cook together with squid, shrimp, mussels and vegetables in broth and soy sauce. This is commonly serve in any occasions or in mid-afternoon snacks.
I highly recommend HOBE Special Bihon, it is made from the finest-milled cornstarch yet maintaining the taste and quality of the bihon. The firmness and smoothness of bihon make it ideal for this recipe. HOBE Special Bihon is available in leading supermarkets and grocery stores.
Estimated time of preparation and cooking: 40-60 minutes
Good for 8-10 persons
Ingredients: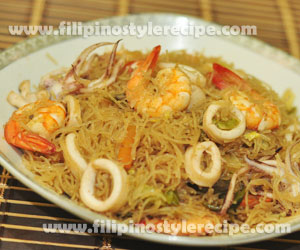 500 grams cornstarch noodles(bihon), I used HOBE Special Bihon
12-15 pieces shrimp, peeled and deveined
12 pieces squid, cleaned and cut into rings
12-15 pieces mussels, boiled and removed from shells
100 grams fish balls, quartered(optional)
1/4 kilo snow peas(sitsaro)
2 cups cabbage, sliced into strips
1 carrot, julienned
1 red bell pepper, sliced into strips
6 cloves garlic, minced
1 onion, chopped
4 cups shrimp broth(shrimp heads mashed then boiled in water with salt)
4 tablespoons soy sauce
fish sauce, salt and pepper to taste
200 grams calamansi
Procedures:
Part 1
1. In a big bowl with water, soak noodles for 10 minutes or until soft. Drain and set aside.
Part 2
1. In a large wok, heat oil then stir fry fish balls until color turns to light brown. Remove and set aside.
2. In a same wok, saute garlic and onions then add shrimp, mussels and squid. Saute until shrimp color turns to pink. Remove and set aside.
3. In a same work, pour broth, soy sauce, salt and pepper then simmer for 3 minutes.
4. Add vegetables then simmer for 5 minutes or until half cooked. Remove and set aside except for the liquid.
5. Add soaked noodles then toss until the liquid absorb.(Make sure the liquid is enough for the noodles to cook and absorb).
6. Put back all the ingredients then cooked 2 minutes. Mix well.
7. Adjust seasoning according to taste then remove from heat. Serve hot with calamansi.