Filipino Style Recipe: Kare Udon is a popular curry soup dish inspired by Indian and Japanese cuisine. Generally the soup is made of udon noodles with thick curry flavoured broth.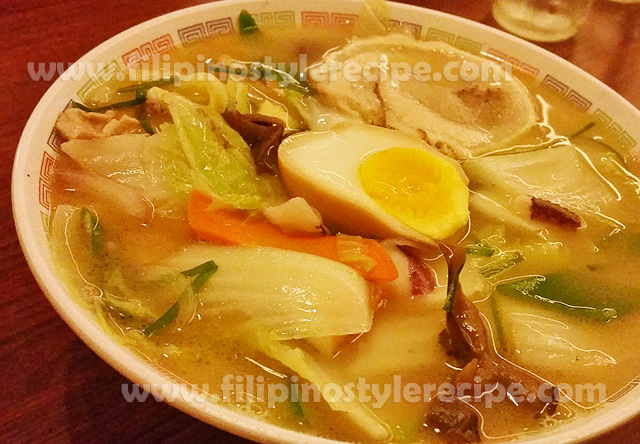 Ingredients:
1 pack udon noodles
3 cups vegetable broth
250 grams beef tenderloin, cut into serving pieces
2 tablespoons oil
1 white onions, sliced
1 carrot, sliced
3 black fungus mushrooms(tengang daga), chopped
1/2 Chinese cabbage (baguio pechay), cut into pieces
2 cubes curry roux
1 teaspoon curry powder
1 hard-boiled egg, halves
1 stalk onion leeks, chopped
Procedures:
Part 1.
1. Cook noodles according to package instruction. Set aside.
Part 2
1. In a pot, heat oil then stir fry beef until brown all sides. Set aside.
2. Saute onion, mushroom, carrot and curry powder. Pour a cup of vegetable soup then cover and simmer for 5 minutes or until the vegetables are tender.
3. Add curry roux and beef then stir cook until then meat is tender and the sauce thickens.
4. Add the rest of vegetable, broth and curry mixture. Simmer for a few minutes.
5. Prepare cooked udon noodles in a bowl then pour the curry soup.
6. Add hard boiled egg then garnish with green onions. Serve.