Filipino Style Recipe: Latik is a solid coconut curds made from coconut milk. The coconut milk cook until almost dry and curdle, this is usually serve together with suman, biko, maja blanca and other desserts.
Good for 1/4 cup latik
Ingredients: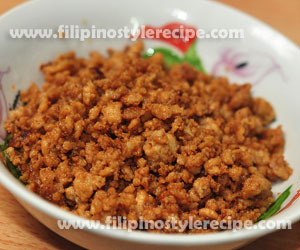 2 cups coconut milk
Procedures:
1. In a sauce pan, cook coconut milk in a low heat while keep stirring until brown and curdle.
2. Remove from heat and drain then serve with suman or biko.