Filipino Style Recipe: Chicken pandan is a simple yet delicious chicken dish originated from Thailand. This dish is made of chicken pieces marinated then wrapped with pandan leaves. Deep fry until golden brown then serve with toyo-mansi sauce. This is usually serve together with steamed rice or can be serve as pulutan.
Estimated time of preparation: 10 minutes(plus marinating time)
Estimated time of cooking: 15 minutes
Good for 10-14 pieces
Ingredients: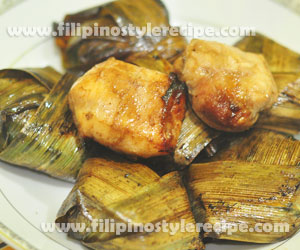 400 grams chicken fillets, cut into pieces
10-14 pandan leaves
cooking oil for frying
Marinade:
3 tablespoons soy sauce
2 tablespoon calamansi juice
1/2 teaspoon turmeric powder
1/2 teaspoon cumin powder
1 tablespoon sugar
1 tablespoon sesame oil
salt and pepper to taste
Procedures:
Part 1
1. In a large bowl, combine marinade ingredients then mix until well blended.
2. Add chicken then marinate for 2-3 hours inside the fridge.
3. Drain chicken then wrap each pieces with pandan leaves.
Part 2
1. In a frying pan, heat enough oil then deep fry wrapped chicken until golden brown. Drain.
2. Transfer to serving plate then serve with dipping sauce and steamed rice.