Filipino Style Recipe: Baked Cheesy Chicken Rice Mixed is another easy and simple yet delicious complete meal. It is mainly made up of leftover rice, chicken and veggies mixed together and cooked in margarine. Topped with Cheese then bake until cheese is melted.
Estimated time of preparation and cooking: 40-50 minutes
Good for 3-4 persons
Ingredients: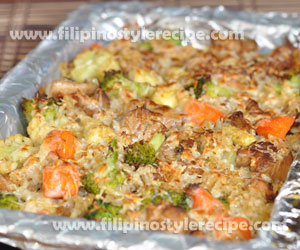 3 cups cooked or leftover rice
1 cup chicken fillet, cut into serving pieces
2/3 cup broccoli florets, steamed
2/3 cup cauliflower, steamed
1/2 carrot, cut into cubes and steamed
76 grams baby corn, cut into serving pieces and steamed
6 cloves garlic, chopped
2 tablespoons margarine
2 tablespoons Parmesan cheese
Mozarella or QuickMelt cheese for toppings
2 tablespoons vegetable oil
salt and ground pepper to taste
Marinade:
1/2 cup soy sauce
1 1/2 tablespoons brown sugar
1 teaspoon peppercorn
Procedures:
Part 1
1. In a bowl, combine chicken, soy sauce, sugar, peppercorns then marinate for 30 minutes. Set aside.
Part 2
1. In a pan, heat oil then fry marinated chicken over low heat for 3 minutes or until light brown. Remove from the pan and set aside.
Part 3
1. In a pan, melt margarine then saute garlic until light brown.
2. Add cooked rice then toss until well coated.
3. Add chicken, veggies and Parmesan cheese then toss. Cook for 3-5 minutes.
4. Seasoned with salt and pepper according to taste.
Part 3
1. In a baking pan, lined with aluminum foil.Transfer the rice mixtures then spread evenly.
2. Top with grated Mozarella cheese then bake in a preheated oven at 300 degrees Fahrenheit for 15 minutes or until cheese is melted.
3. Transfer to serving plate then serve immediately.