Making a pie from scratch may sound intimidating. But it you look into the procedure and ingredients, they are very simple. You may prepare the crust ahead of time and refrigerate.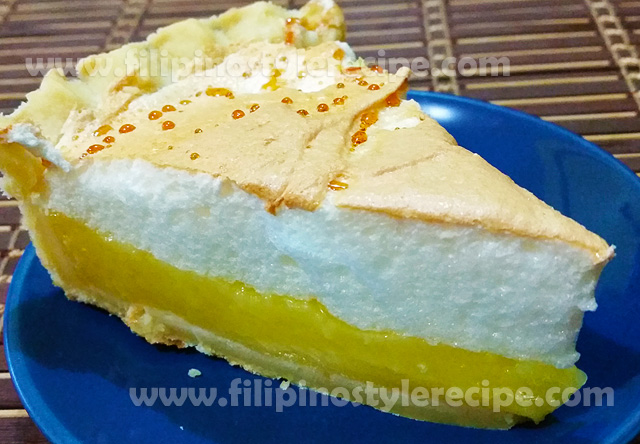 Ingredients:
For the pie crust:
3 cups all purpose flour
1 cup confectioners sugar
1 cup butter, cold and cubed
1 egg, beaten
1 teaspoon vanilla extract
For the Lemon Curd Filling:
1 cup granulated sugar
2 tablespoon all purpose flour
3 tablespoon cornstarch
1 1/2 cup water
1 lemon, juiced and zested
2 tablespoon butter
4 egg yolk
For the meringue:
4 egg whites
6 tablespoon granulated sugar
Procedures:
1. To prepare the crust, in a medium bowl, sift together the flour and confectioner's sugar. Fold in the butter using a fork until mixture forms small crumbs. Stir in the egg and vanilla extract and mix until it forms a dough. If the mixture feels greasy, add some flour. Roll flat around 1/4 inch thick and to about an inch larger than pie plate. Fold carefully in half, lift to pie plate, and unfold. Press into pan. Trim edge with a small knife and pinch edges to form the desired design.Bake in preheated oven for 10 minutes at 300 Fahrenheit. Remove from oven and set aside.
2. For the lemon curd, in a medium pan, whisk together the sugar, flour, cornstarch, and salt. Stir in water, lemon juice and lemon zest. Cook over medium-high heat while stirring frequently to avoid burning on the bottom, until mixture comes to a boil. Stir in butter. Place egg yolks in a small bowl and gradually whisk in 1/2 cup of hot sugar mixture. Whisk egg yolk mixture back into remaining sugar mixture. Bring to a boil and continue to cook while stirring constantly until thick. Remove from heat. Pour filling into baked pie crust.
3. To Make Meringue: In a large mixing bowl, whip egg whites using an electric mixer until foamy. Add sugar gradually, and continue to whip until stiff peaks form. Spread meringue over pie making sure all edges of the pie is sealed.
4. Bake the pie in preheated oven at 350 Fahrenheit for 10 minutes or until the meringue is golden brown. Remove from oven and let it cool. Once cooled, refrigerate for at least 1 hour before serving. This is important to avoid a runny curd.