Filipino Style Recipe: sotanghon patola soup with siomai is another easy and mouth-watering soup dish that usually during rainy season. Usually the sotanghon noodles, luffa(patola) and siomai boiled in water until done then season with fish sauce and pepper according to taste.
Estimated time of preparation and cooking: 20-30 minutes
Good for 5 servings
Ingredients: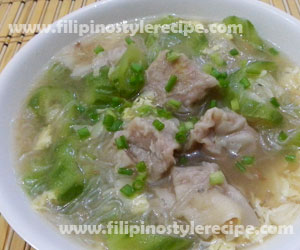 2 packs sotanghon noodles
1 medium-sized luffa(patola), peeled and sliced diagonally
12 pieces siomai(pork or beef)
1 onion, chopped
3 cloves garlic, minced
fish sauce or salt and ground pepper to taste
1 pork bouillon(pork cube),(optional)
1 egg, beaten(optional)
spring onion, chopped(optional)
Procedures:
Part 1
1. In a bowl, soak sotanghon in water until soft then cut into desired length. Set aside.
Part 2
1. In a pot, heat oil and saute garlic and onion
2. Add water and bring to boil then add pork bouillon.
3. Add siomai and simmer until 5 minutes or until cooked.
4. Season with fish sauce and ground pepper according to taste.
5. Add sotanghon noodles and patola then simmer for another 2 minutes.
6. Turn off the heat then pour beaten egg while keep stirring.
7. Transfer to serving bowl and sprinkle with spring onion then serve immediately.