Filipino Style Recipe: Crispy fried luncheon meat and tofu is another simple and easy dish that is usually serve as appetizer or pulutan together with your favorite dip. Luncheon meat and tofu were coated in flour mixture then dip in eggs. Roll luncheon meat and tofu in breadcrumbs then deep fry until golden brown.
Estimated time of preparation: 15 minutes
Estimated time of cooking: 10-12 minutes
Good for 3-4 persons
Ingredients: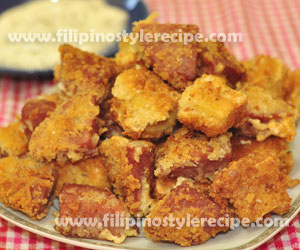 300 grams spicy luncheon meat, cut into serving pieces
200 grams firm tofu, cut into serving pieces
1 1/2 cups flour
1 1/2 cups breadcrumbs
2 eggs, beaten
salt and pepper to taste
oil for frying
Procedures:
Part 1
1. In a pan, heat oil then fry tofu until golden brown. Drain and set aside.
Part 2
1. In a bowl, combine flour, salt and pepper then mix well. Set aside.
2. Prepare beaten eggs and breadcrumbs into a separate bowls. Set aside.
3. Dredge the luncheon meat into flour mixture then shake off to remove excess flour.
4. Dip in beaten eggs and press into bread crumbs to coat all sides.
5. Repeat the steps for remaining luncheon meat and tofu.
Part 3
1. In a pan, heat oil then fry each luncheon meat and tofu for 5 minutes or until light brown.
2. Drain on paper towel then serve with garlic-mayo dip.