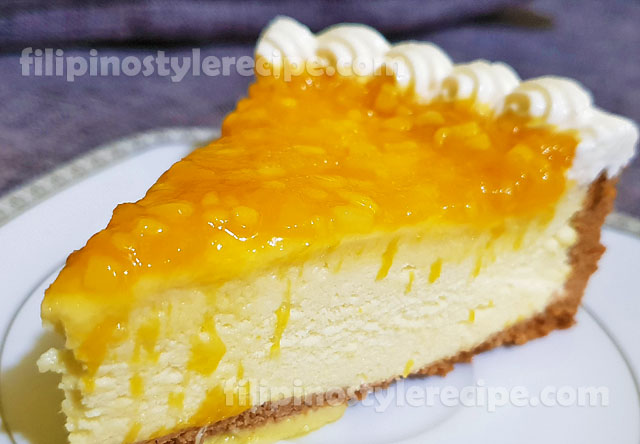 Ingredients:
Crust:
1 1/2 cups crushed graham cracker
1 tablespoon brown sugar
1/2 cup butter, melted
1/2 teaspoon cinnamon powder(optional)
Filling:
1/2 cup mango puree
1 cup cream cheese
1/2 cup sour cream
2 raw eggs
1/2 teaspoon lemon extract
Mango Glaze:
1/2 cup mango or mango puree
1/4 cup sugar
Whipping cream for garnishing (optional)
Procedures:
Part 1
1. In a mixing bowl, combine crushed graham, cinnamon powder, sugar and butter then mix until well combined.
2. In a springform pan, spread and press down the crust mixture up to 1/2 inch thick then refrigerate for at least 10 minutes.
3. Bake in a preheated oven over 350 F for 15 minutes. Remove and set aside.
Part 2
1. In a blender, combine mango puree, cream cheese, sour cream, eggs and lemon extract. Blend until smooth.
2. Pour and spread evenly the filling into the crust up to 1 inch thick then bake at 325 F for 40 minutes or until firm. Test for doneness, if toothpick inserted comes out clean. Remove and let it cool.
Part 3
1. Boil sugar and remaining mango puree until slightly thicken.
2. Pour the mixture over the cheesecake. Add whipping cream on the side, chill at least 8 hours. Serve cold.