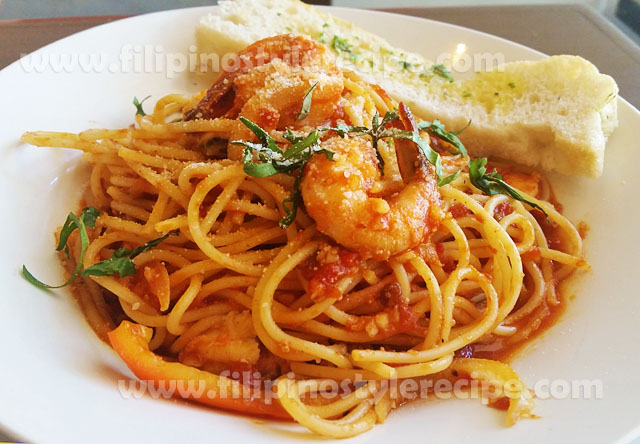 Ingredients:
500 fresh shrimp, peeled and deveined
350 grams spaghetti pasta
Parmesan cheese for garnishing
Fresh chopped basil for garnishing
Garlic bread
Marinara Sauce:
3 cups crushed tomatoes
3 cups tomato sauce
2 teaspoons garlic, minced
1 teaspoon dried oregano
1/2 teaspoon dried parsley
1/2 teaspoon dried basil
1/2 teaspoon chili flakes/powder
1/2 cup grated Parmesan cheese
3 tablespoons olive oil
salt and pepper to taste
Procedures:
Part 1
1. In a large pot, prepare the pasta based on cooking instructions. Set aside.
Part 2
1. In a saucepan, heat oil then saute garlic until golden brown.
2. Add shrimp then sprinkle with salt, cook until color turns to pink.
3. Transfer half of shrimp to a plate and set aside.
Part 3
1. In a same pan, add crushed tomatoes and tomato sauce. Bring to boil.
2. Add dried oregano, basil, parsley, chili, and Parmesan cheese.
3. Adjust seasoning according to taste then stir cook over low heat until mixture thickens.
4. Put back remaining shrimp then stir. Remove from heat.
Part 4
1. Toss marinara sauce with the cooked pasta.
2. Transfer to serving plate then sprinkle with Parmesan cheese and chopped basil.
3. Serve with garlic bread.