Filipino Style Recipe: Pininyahang Bistek is another mouthwatering and delicious beef dish. We innovate the dish by adding pineapple for maximum flavor. The meat is marinated for several hours then stir fry until just cooked. Then topped with onion rings together with the sauce.
Estimated time of preparation: 10 minutes (plus marinating time)
Estimated time of cooking: 10 minutes
Good for 2-3 persons
Ingredients: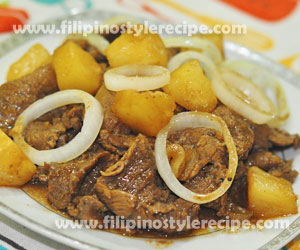 1/2 kilo beef(round, sirloin or tenderloin), sliced 1/4-inch think
1 small can pineapple chunks, reserved juice
1 tablespoon lemon juice or calamansi
5 tablespoons soy sauce
3 tablespoons oyster sauce
2 cloves of garlic, minced
1 large white onion, sliced in rings
salt and pepper to taste
4 tablespoons cooking oil
1/2 teaspoon cornstarch(dissolved in 1/4 cup water)(optional)
Procedures:
Part 1
1. Marinate meat in lemon juice, garlic, soy sauce and ground pepper for an hour or overnight inside the fridge.
Part 2
1. In a pan, heat cooking oil over medium heat. Lightly fry the onion rings. Remove from pan and drain. Set aside
Part 3.
1. In the same pan, add the marinated meat then stir-cook over high heat for 5 minutes or until just cook.(Don't overcook, meat will become tough and rubbery).
2. Transfer the meat to a serving plate then set aside.
3. In the same pan, pour the marinated, onion, oyster sauce, pineapple and pineapple juice then bring to boil.
4. Add dissolved cornstarch, salt and pepper to taste then simmer until reduce in half.
5. Pour the sauce over meat then garnish with onion rings.
6. Serve hot and enjoy!