Filipino Style Recipe: maruya or banana fritters is another typical Filipino meryenda(mid-afternoon snack). Maruya is normally consists of cardava banana dipped in a combination of flour, baking powder, milk, eggs, salt and sugar then deep fried until golden brown.
Estimated time of preparation and cooking: 30-40 minutes
Good for 3-4 persons
Ingredients: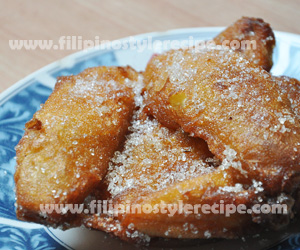 6 pieces ripe cardava bananas(saging na saba), cut into lengthwise
1 cup flour
1 teaspoon baking powder
1/2 cup milk
2 pieces eggs
1/2 cup sugar
1/2 teaspoon salt
oil for frying
Procedures:
Part 1
1. In a bowl, combine flour, baking powder, salt, sugar, eggs and milk. Mix well.
2. Dip bananas in batter.
Part 2
1. In a pan, heat oil and deep fry the bananas(dipped in batter) until golden brown.
2. Drain then serve with vanilla ice cream or sugar if desired.