Christmas is just around the corner and you might be planning on what to include on your Noche Buena. You may consider this cheesecake recipe and prepare it ahead of time (like a day before) and keep in the refrigerator.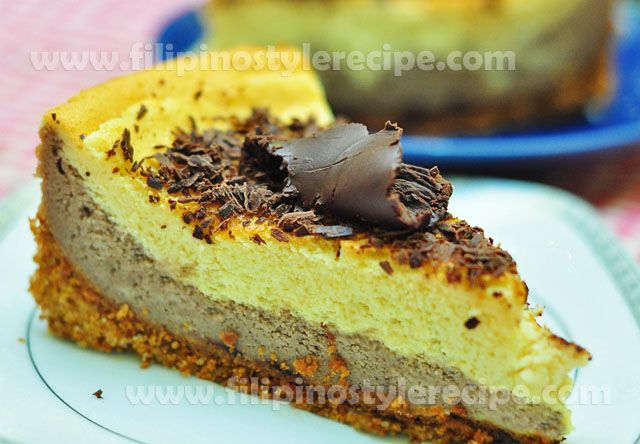 Ingredients:
For the crust
1 cup crushed grahams
1/4 cup butter, melted
2 tablespoon sugar
For the filling:
2 packs (8 ounce) cream cheese, softened
2/3 cup sugar
5 eggs, separated
1 teaspoon vanilla extract
1/4 cup dark chocolate,melted
2 teaspoon mocha flavor (I used Ferna)
Chocolate shavings for garnish
Procedures:
1. To prepare the crust, combine the ingredients and press into the bottom of a 9 inch springform pan. Chill in the refrigerator while preparing the filling.
2. In a bowl, beat the cream cheese using an electric mixer until smooth and no lumps remain. Gradually add the sugar until well blended. Add egg yolks one at a time, beating after each addition until just incorporated. Do not over beat at this point. Add the vanilla until well blended.
3. In a separate bowl, beat the egg white until stiff peaks form, about 5 minutes. Get 1/3 of the egg white and fold into the cream cheese mixture until well blended. Add the remaining egg whites and fold.Divide the mixture into two.
4. For half of the mixture, fold in the dark chocolate. For the other half, mix the mocha flavoring. Get the crust from the refrigerator and pour the chocolate mixture. Then gently scoop the mocha mixture over the chocolate mixture to form the second layer.
5. Bake in preheated oven at 350 Fahrenheit for 50-60 minutes or until the outer layer is no longer wet but still jiggles when shaken. Note: do not open the oven to check no earlier than 45 minutes. When done, slightly open the oven and let the cheesecake stay inside for about an hour. Then remove from oven to let it cool completely before refrigerating. Garnish with chocolate shavings before serving.