Filipino Style Recipe: nilasing na hipon is a simple but tasty shrimp dish, the shrimps marinated in wine or liquor then sauteed in butter with onion and pepper.
Estimated time of preparation: 10 minutes
Estimated time of cooking: 5-7 minutes
Good for 3-4 persons
Ingredients: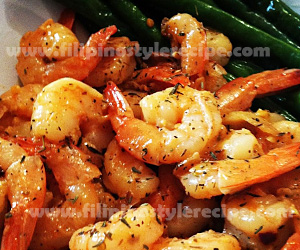 500 grams prawns
1 onion chopped
1 bell pepper, chopped
1 tablespoon butter
2 cups white wine(you may also use sake, tequila, gin, vodka or beer)
salt and pepper to taste
4 tablespoon olive oil
2 red hot chili(siling labuyo),chopped(optional)
1 tablespoon rosemary(optional)
Procedures:
Part 1
1. In a bowl, combine 1 tablespoon olive oil, wine, rosemary, salt and pepper. Marinate shrimps for 1 hour.
2. Drain on paper towel.
Part 2
1. In a pan, heat olive oil and melt butter.
2. Saute onion, bell pepper and red chili.
3. Add shrimps and stir fry for 3-5 minutes. Drain on paper towel.
4. Serve with spicy vinegar.