Filipino Style Recipe: Okoy or Ukoy(crispy shrimp fritters) is a native Filipino dish originated from the province of Laguna. This dish is usually an afternoon snack but some use it as viand for regular meals. Normally the baby shrimps mixed with flour, egg, salt and pepper. Scope to form a patty then deep fry until crisp and brown.
Estimated time of preparation and cooking: 20-30 minutes
Good for 2-3 persons
Ingredients: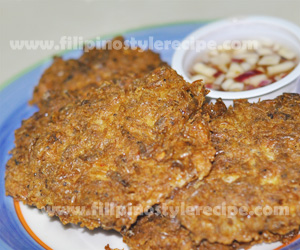 250 grams baby shrimps, cleaned
1 cups flour or cornstarch
1 egg, beaten
1/4 cup water
1 teaspoons salt
1/2 teaspoon ground pepper
1 onion, chopped
cooking oil for frying
1 cup bean sprouts(toge) (optional)
1 sweet potatoes(kamote) or turnip(singkamas), peeled and cut into strips(optional)
Spicy Garlic Vinegar
1 cup white vinegar
1 tablespoon garlic, minced
1 teaspoon salt
1 teaspoon sugar
1 piece chili(siling labuyo), chopped
Procedures:
Part 1
1. In a bowl, combine flour, salt, pepper, egg and water to make a smooth batter. Stir to mix well.
2. Add the baby shrimps, onion, bean sprouts and sweet potatoes. Mix until shrimps and vegetables are well coated.
Part 2
1. In a frying pan, heat cooking oil and pour about 1/4 cup of the mixture.
2. Deep fry each sides for about 1-2 minutes or until crisp and brown. Drain on paper towels.
3. Repeat until the entire mixture is consumed.
4. Serve hot with spicy garlic vinegar. Enjoy
Part 3(optional)
1. In a bowl, mix all the ingredients for spicy garlic vinegar.