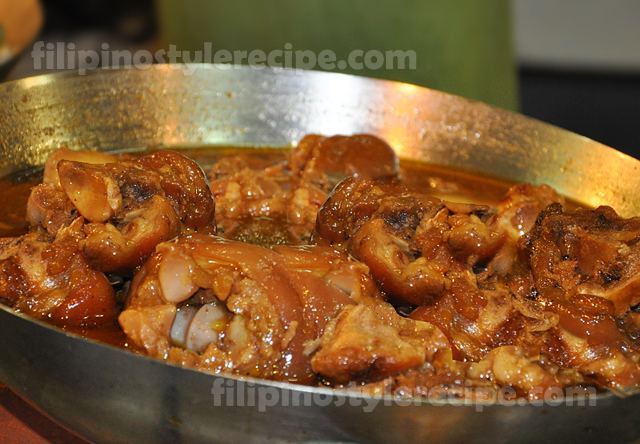 Ingredients:
1 pork leg(pata), slice into serving pieces.
3 teaspoons salt
1 teaspoon peppercorn
6 cloves garlic, pounded
2 onions, chopped
2 cups soda(sprite, 7-up, lemonade or root beer)
5 cups pork broth
1/2 cup soy sauce
1/2 cup oyster sauce
2 bay leaves(laurel)
2 pieces star anise (optional)
1/4 cup dried banana blossoms(puso ng saging)
2/3 cup brown sugar
1 tablespoon cornstarch(dissolved in 1/2 cup water)
cooking oil for frying
Procedures:
Part 1
1. In a pot, place pata then pour enough water to cover the meat.
2. Add salt and peppercorn then bring to boil for 15 minutes. Drain and reserve the broth.
Part 2
1. In a pot, heat oil then fry pork pata until golden brown. Drain.
Part 3
1. In a pot, heat oil and saute garlic and onion.
2. Add fried pata, broth, soda, soy sauce, oyster sauce, bay leaves, banana blossoms, star anise and brown sugar.
3. Simmer over low heat for 1 to 1 1/2 hours or until pata is tender. Add water if necessary.(Cook in pressure cooker takes 30 minutes).
4. Add dissolved cornstarch and adjust seasoning according to taste.
5. Continue cooking until the sauce thickens and a few sauce is remaining.
6. Transfer to serving plate then serve with steamed rice.