Filipino Style Recipe: Toasted Garlic Pandesal is a simple side dish that can be serve together with pasta or with coffee. The pandesal cut into half then spread with garlic-butter mixture. Toast in a oven until crispy and golden.
Ingredients: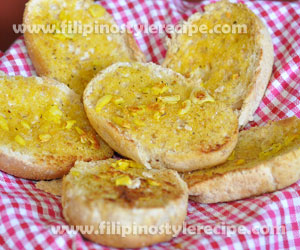 4 large-sized whole wheat pandesal, cut in half horizontally
1/2 cup unsalted butter, softened
6 cloves garlic, minced
fresh parsley, minced
Procedures:
Part 1
1. In a small bowl, combine butter, garlic and parsley then mix well.
2. Spread the mixture over the bread then arrange in a baking pan.
Part 2
1. In a preheated oven, bake the bread over 350 degrees Fahrenheit for 10-12 minutes or until crispy and golden.
2. Transfer into serving platter then serve immediately.