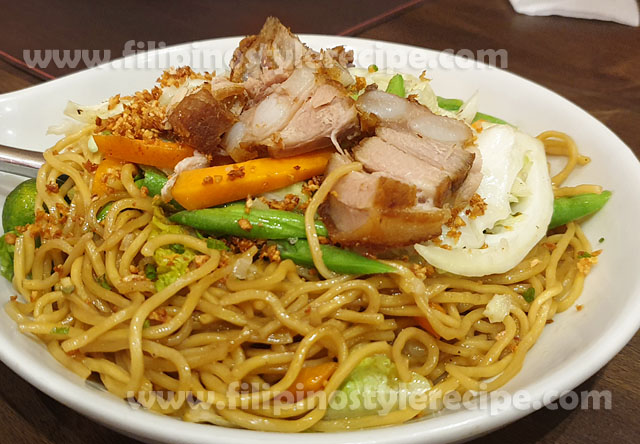 Ingredients:
500 grams pancit canton noodles
500 grams lechon kawali, chopped (recipe)
2 pieces pork cubes
10 cups water
1/4 kilo baguio beans, slice diagonally
2 cups cabbage, sliced into strips
1 carrot, julienned
1 cup celery(kintsay), sliced
4 tablespoons soy sauce
2 tablespoons oyster sauce
4 tablespoons cooking oil
1 onion, chopped
4 cloves garlic, minced
salt and pepper to taste
1 tablespoon garlic flakes
Procedures:
Part 1
1. In a wok or frying pan, saute the garlic and onions.
2. Put-in ½ of lechon kawali, sauté for 3 minutes.
3. Add soy sauce, water, and pork cubes then simmer for 3 minutes.
4. Put-in pancit canton noodles then cover and simmer until the liquid has been absorbed by the noodles.
5. Add oyster sauce then toss until well combined.
6. Put-in the remaining vegetables, cook for 7 minutes.
7. Adjust seasoning with salt and pepper according to taste.
8. Transfer to serving plate then top with remaining lechon kawali and sprinkle with garlic flakes. Serve with calamansi. Enjoy!