Filipino Style Recipe: Panzanella is another type of salad made of bread, tomatoes, onion and basil then dressed with olive oil and vinegar. Panzanella salad is a simple and easy to prepare which is ideal for those on diet and health-conscious. This dish is popular in Italy and commonly serve as appetizer specially during summer season.
Estimated time of preparation: 30 minutes
Good for 3-4 servings
Ingredients: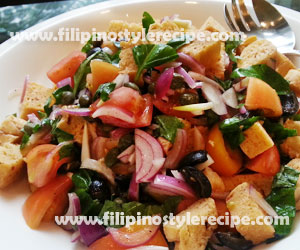 200 grams croutons
6-8 ripe tomatoes, diced
1 red onions, chopped
1 tablespoon capers
3 tablespoons black olives, sliced
a bunch of fresh basil, torn into pieces
Dressing:
8 tablespoons olive oil
1 clove garlic, chopped
4 tablespoons vinegar
1/2 teaspoon sugar
salt and pepper to taste
Procedures:
Part 1
1. In a separate bowl, olive oil, garlic, vinegar, sugar, salt and pepper then mix well.
Part 2
1. In a bowl, combine croutons, tomatoes, onions, capers and black olives.
2. Pour dressing over the salad then toss and set aside for 20 minutes.
3. sprinkle basil then toss again before serving.