Filipino Style Recipe: I am enjoying peanut butter a little too much lately. Whether to eat on its own, with bread, with banana, and it just goes on and on. This cupcake recipe is inspired by the creaminess of peanut butter.
Ingredients: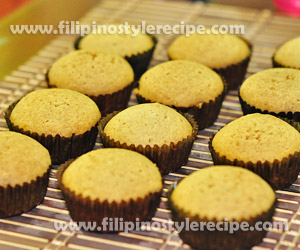 1/2 cup oil
1/4 cup brown sugar
1/4 cup white sugar
1/4 cup peanut butter
2 eggs
2 teaspoon vanilla extract
1 cup and 2 tablespoon flour
1 teaspoon baking soda
1/2 tablespoon cornstarch
1/4 teaspoon salt
1/4 cup and 2 tablespoon buttermilk
Procedures:
Part 1
1. In a large mixing bowl, combine oil, sugar, and peanut butter then beat until creamy.
2. Add eggs and vanila and mix until well combined.
3. In a separate bowl, combine flour, baking soda, cornstarch and salt.
4. Alternately add the dry ingredients and buttermilk into the batter.
Part 2
1. Scoop batter into cupcake pan with cupcake liners until almost full (cupcake will rise a little)
2. Bake in preheated oven at 350 degrees Farenheit for 15 minutes or toothpick inserted comes out clean.
3. Remove from oven and let it cool for 2 minutes until transferring to a wire rach to cool completely. Top with your favorite frosting and enjoy