Filipino Style Recipe: tofu and pechay in oyster sauce is another simple and easy dish that inspired by Chinese cuisine. This dish is made of fried tofu cooked in oyster sauce, soy sauce, water, chopped peanut and dried chili flakes together with pechay.
Estimated time of preparation and cooking: 30-40 minutes
Good for 3-4 servings
Ingredients: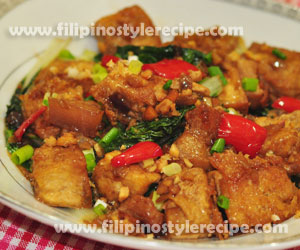 300 grams tofu, cut into cubes
100 grams pork belly, cut into small pieces(optional)
a bunch of pechay, trimmed
1 red bell pepper, cut into
4 tablespoons oyster sauce
2 tablespoons soy sauce
1/2 cup water
4 tablespoons cooking oil
fish sauce, salt and pepper to taste
a dash of chili flakes(optional)
1 1/2 tablespoons peanuts, chopped(optional)
1 tablespoons spring onion, chopped(optional)
Procedures:
Part 1
1. In a pan, heat oil then fry tofu until golden brown. Drain and set aside.
2. In a same pan, stir fry pork until brown then season with fish sauce. Set aside.
Part 2
1. In a same pan, reduce oil then saute garlic and onion.
2. Put back the pork and tofu then add oyster sauce, soy sauce, water, chili flakes and peanuts.
3. Add bell peppers then cook for 2 minutes then adjust seasoning according to taste.
4. Add pechay then simmer for another minute.
5. Transfer to serving plate then sprinkle with remaining chopped peanuts and spring onion. Serve with steamed rice.