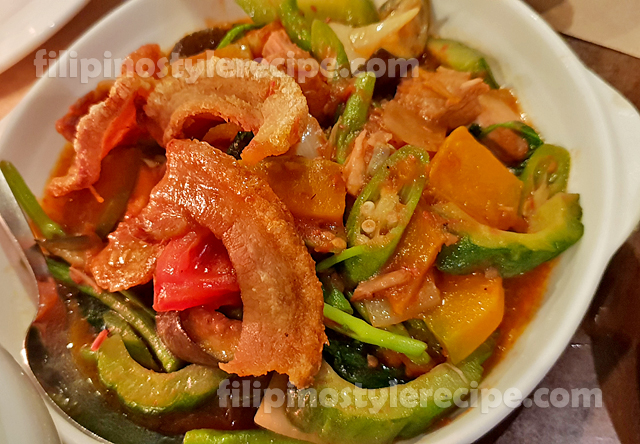 Ingredients:
1/4 kilo pork belly, cut into small cubes
1/2 kilo pork belly, cut into thin slices
1/2 squash, chopped into 2×1 inch cubes
1 large eggplant, cut in halves and sliced diagonally
1 bunch string beans(sitaw), cut in 2-inch length
6 pieces okra, cut diagonally
1 medium-sized bitter melon(ampalaya), cut in half seeded and slice diagonally
3 cloves garlic, peeled and smashed
1 piece onion, chopped
1 tablespoon ginger, sliced in strips
3 large tomato, diced
4 tablespoon shrimp paste(bagoong alamang)
1 cup of water
3 tablespoon cooking oil
salt and pepper to balance the taste
Procedures:
Part 1
1. Rub pork slices with salt, let stand for 15 minutes.
2. Deep fry for 5 minutes or until golden brown. Drain and set aside.
Part 2
1. In a pan, heat cooking oil over medium heat.
2. Saute the garlic, ginger, onion and tomato
3. Add the pork and cook for about 5-8 minutes or until color turns light brown.
4. Put-in shrimp paste and cook for 2 minutes.
5. Add water and increase the heat to bring it to a boil. Simmer for 10-15 minutes or until pork is tender
6. Add the squash and cook for another 5-8 minutes or until texture becomes soft
7. Add in all the remaining vegetables, mix with the other ingredients.
8. Simmer for 5 minutes or until all the vegetables are cooked.(Do not overcook the vegetables)
9. Transfer to serving plate then top with crispy pork strips. Serve with rice. Share and Enjoy!