Filipino Style Recipe: Pinaksiw na hito sa soda is another quick and easy fish dish by Filipinos. Instead of traditional paksiw which has a sour and salty taste. This version of paksiw has an additional sweet flavor coming from soda. The dish can be served together with steamed rice or sometimes as pulutan(appetizer or finger food) with cold beer.
Ingredients: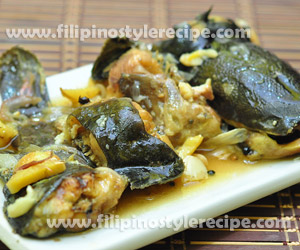 2 pieces large-sized catfish
6 gloves garlic, pounded
1 onion, chopped
1 thumb-sized ginger, sliced and pounded
4 tablespoons vinegar
3 cups soda(sprite or 7-up)
1 teaspoon olive oil
salt and pepper to taste
salt and vinegar for washing
Procedures:
Part 1
1. Rub catfish with salt then wash in vinegar.
2. Cut into 3-4 slices then rinse in running water. Set aside.
Part 1
1. In a large pot, arrange garlic, onions and ginger at the bottom.
2. Arrange sliced catfish then pour vinegar, soda, olive oil, salt and ground pepper.
3. Cover and simmer over medium heat for 8-10 minutes or until the sauce reduced.
4. Remove from heat then serve hot with steamed rice. Enjoy