Filipino Style Recipe: Pinangat na Galunggong is another simple and easy Filipino dish. It is usually consist of fish cooked in a combination of calamansi, tomatoes and some spices.
Ingredients: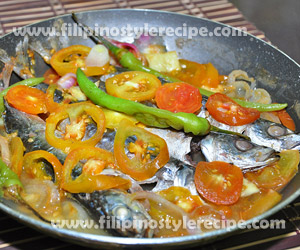 500 grams galunggong, cleaned and trimmed
2 medium size tomatoes, sliced
1 onion, chopped
1 thumb-sized ginger, chopped
3 pieces green chili
5 pieces calamansi, juice
2 cups water
salt and pepper to taste
Procedures:
1. In a pot, arrange half of tomatoes, ginger and onion.
2. Arrange galunggong over then add the remaining tomatoes, ginger, onion and green chili.
3. Sprinkle with salt and pepper then pour calamansi juice and water.
4. Cover and simmer over medium heat for 15 minutes or until cooked.
5. Remove from heat then serve with steamed rice.