Filipino Style Recipe: Banana Peanut Butter French Rolls is a simple yet special bread dish that can be served together with hot coffee. The bread flatten then fill with peanut butter and banana. Roll then dip in egg and milk mixture. Coated with sugar and cinnamon powder then fry until golden brown.
Ingredients: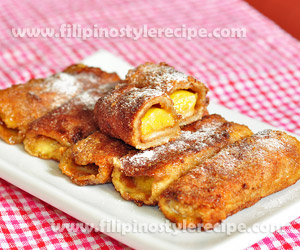 10 slices white bread
1 cup peanut butter
2-3 pieces banana, peeled and cut into quarter vertically
1 raw egg
1/2 cup milk
5 tablespoons brown sugar
1 teaspoon cinnamon powder
1/2 cup butter
caramel syrup (optional)
Procedures:
Part 1
1. In a bowl, combine sugar and cinnamon powder then mix well.
2. In a separate bowl, combine egg and milk then whisk until combined.
Part 2
1. Remove the crusts from each slice of bread then flatten with a rolling pin.
2. Fill each slice with peanut butter.
3. Add sliced banana and drizzle with caramel syrup then roll the bread tightly.
Part 3
1. In a pan, melt butter. Dip each roll in egg-milk mixture then roll in sugar-cinnamon mixture.
2. Lightly fry each roll until golden brown. Drain.
3. Transfer to serving plate then sprinkle with confectioner's sugar. serve immediately with hot coffee.