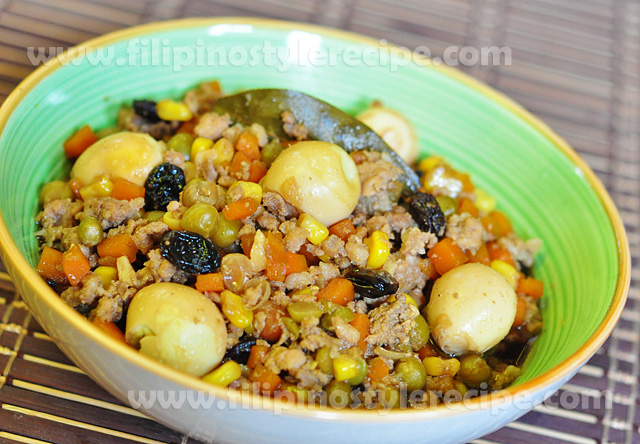 Ingredients:
1/4 kilo ground pork(giniling)
1 1/2 cup mix vegetables (carrots, sweet peas, corn)
2 teaspoons raisins
1/4 cup soy sauce
5 cloves garlic, minced
1 onion, sliced
2 bay leaves
1/4 cup water or pork broth
5 pieces hard boiled quail eggs (optional)
sugar, salt and pepper to taste
2 tablespoons vegetable oil
Procedures:
1. In a pan, heat oil and saute garlic and onion.
2. Add ground pork and soy sauce then simmer for 5 minutes.
3. Add mix vegetables, raisins, bay leaves, quail eggs, and water. Bring to boil.
4. Season with sugar, salt and pepper then simmer for 3 minutes or until tender.
5. Remove from heat and serve hot.