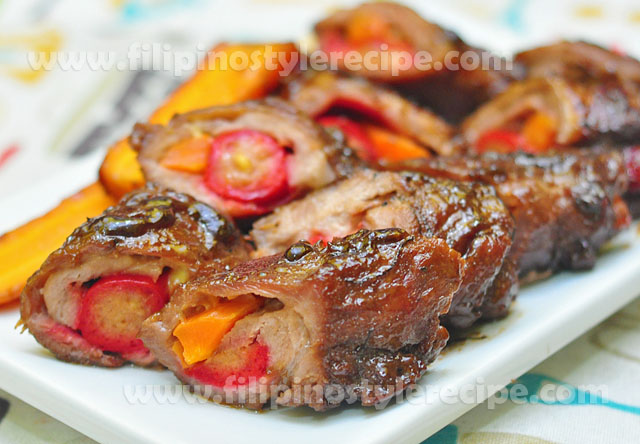 Ingredients
1 kilo pork loin, sliced thinly and long enough to roll
1/4 cup soy sauce
1/4 cup soda (sprite/7-Up)
1/2 cup pineapple juice
1/4 cup brown sugar
4 cloves garlic
1 carrot sliced into strips
sausage or hotdog, can be halved vertically
cheddar cheese, sliced into strips
Procedures
1. In a bowl, prepare the marinade by combining the soy sauce, soda, pineapple juice, brown sugar and garlic. Mix until the sugar is dissolved.
2. In a flat and clean surface, arrange the carrots, hotdog and cheese at one edge of the meat. Roll to form like a log. Secure with string. Do the same for the rest of the ingredients.
3. Put the rolls into a container and pour the soy sauce mixture over it and marinate overnight or for at least 1-2 hours.
4. Once ready to cook, heat pan with oil, put the meat and sear on all sides until light brown. Get 1 cup from the marinade and add to the meat. Simmer for 30 minutes, flipping the meat from time to time, until the sauce is thick and the meat is cooked.You may add sauce if the meat is not yet cooked.
5. Once cooked, remove the meat from pan. Cut the string and slice pork into serving pieces and transfer to serving dish. Pour the remaining sauce over the meat.