Filipino Style Recipe: Pork Igado is another Filipino dish consist of pork meat sauteed and cooked in a blend of water, soy sauce, vinegar together with carrots, bell pepper and green peas.
Ingredients: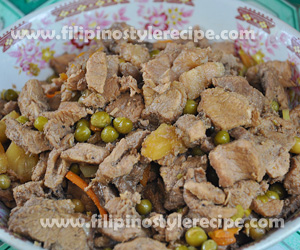 500 grams pork loin, sliced into strips
3 pieces bay leaves(laurel)
1 cup water
1 medium-sized carrot, cut into strips
2 pieces red and green bell peppers, cut into strips
1/2 cup green peas
2 tablespoons cooking oil
salt to taste
Marinade:
2 tablespoon vinegar
1/4 cup soy sauce
4 gloves garlic, crushed
1 large onion, chopped
1 teaspoon peppercorns
2 bay leaves
Procedures:
Part 1
1. In a bowl, combine marinade and pork. Marinate for at least an hour.
2. Drain meat then reserve the marinade.
Part 2
1. In a pot, heat oil then fry bell peppers for less than a minute. Remove and set aside.
2. Add pork meat and simmer until color turns to golden brown.
3. Pour water and marinade. Simmer for 25 minutes or until pork is tender.
4. Add carrots and simmer for 3 minutes. Adjust seasoning according to taste.
5. Add green peas and bell pepper. Simmer for another 3 minutes or until sauce is reduced and thickened.
6. Transfer to serving plate and serve.