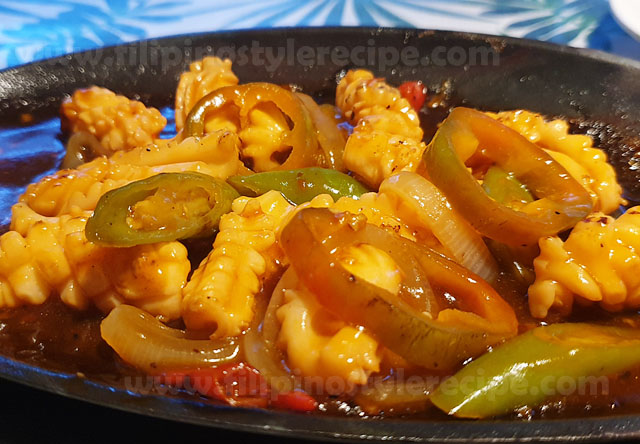 Ingredients:
1 kilo medium-sized fresh squid, cleaned
3 cloves garlic, minced
1 white onion, chopped
2 tablespoons oyster sauce
100 grams tomato sauce
2 teaspoons hot sauce
2-3 pieces red chili(labuyo), chopped
3 pieces green chili(siling haba), sliced diagonally
1 large bell pepper, sliced
salt and ground pepper to taste
3 tablespoons sesame oil
Procedures:
Part 1
1. Score the squid with diagonal criss-cross scoring then cut into squares.(This will make the squid more tender and less chewy).
Part 2.
1. In a pan, heat sesame oil then saute garlic, onion and red chili.
2. Add squid, oyster sauce, tomato sauce, and hot sauce. Stir to combine.
3. Add green chili and bell pepper then stir cook for 1 minute. (Don't overcooked, squid will become tough)
4. Season with salt and pepper according to taste.
5. Transfer to hot sizzling plate then serve immediately with steamed rice.