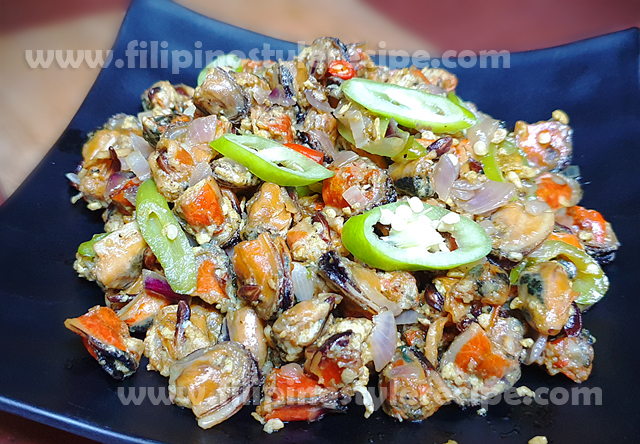 Ingredients:
2 kilo mussels(tahong), cleaned with beard removed
1 thumb-sized ginger, minced
3 cloves garlic, minced
1 red onion, minced
2-3 pieces green chili pepper(siling haba), chopped
2 pieces red chili(labuyo), chopped
1/4 teaspoon paprika
1/2 teaspoon salt
1/4 teaspoon ground pepper
1 tablespoon unsalted butter
1-2 raw eggs (optional)
Procedures:
Part 1
1. In a pan, place ginger and mussels with enough water. Bring to boil until the shells open.
2. Drain then remove the mussels from the shell. Chop and set aside.
Part2
1. In a pan, melt butter the saute garlic and onion.
2. Add mussels, green chili, and labuyo then season with paprika, salt and pepper.
3. Transfer into hot sizzling plate then add egg on top.
4. Toss and serve immediately.