The all time favorite red velvet cupcake is very simple to do. On this recipe, I used buttermilk powder instead of my usual sour cream. The output is still the same soft and velvety cupcake. The perfect frosting for red velvet which is cream cheese frosting is also included in the recipe.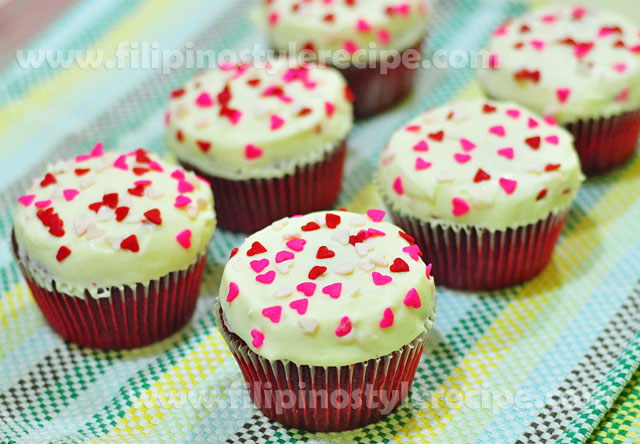 Cupcake Ingredients:
1 tablespoon buttermilk powder
1/2 cup water
1 cup all purpose flour
2 tablespoon unsweetened cocoa powder
1/2 teaspoon salt
1/4 cup butter
3/4 cup sugar
1 egg
1 tablespoon red food coloring
1 teaspoon vanilla extract
1 1/2 teaspoon white vinegar
1 teaspoon baking soda
Cream Cheese Frosting:
1 (8 ounce) package cream cheese
1/2 cup butter
3 cuos sifted confectioner's sugar
1 teaspoon vanilla extract
Heart Shaped Sprinkles (optional)
Procedures:
For the cupcake:
1. Preheat oven at 350 degrees F. Dissolve buttermilk powder in water and set aside.
2. In a bowl, sift together the flour, cocoa powder, and salt.In another bowl, beat the sugar and butter until light and fluffy. Mix in the egg, buttermilk, red food coloring and vanilla.
3. Add the dry ingredients and stir into the batter until just blended. In a small bowl, combine the vinegar and baking soda. Stir and pour into the batter and fold.
4. Spoon batter into prepared cupcake cups.Bake in preheated oven for 20-25 minutes or until toothpick inserted in the middle comes out clean. Remove from the oven and let it cool before frosting.
For the Cream Cheese Frosting
1. In a medium bowl, cream together the cream cheese and butter until creamy. Mix in the vanilla, then gradually stir in the confectioners' sugar. Frost cooled cupcakes and add spinkles.