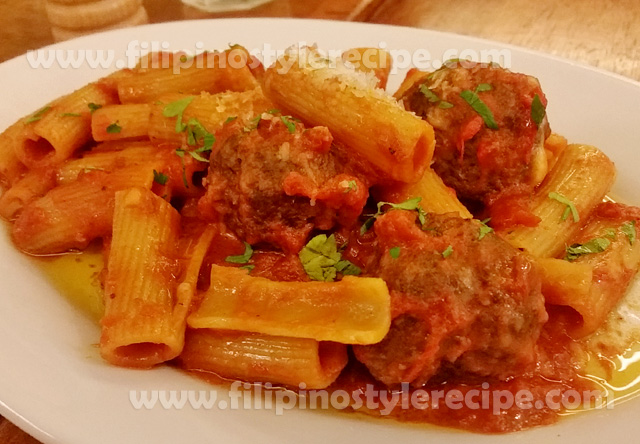 Ingredients:
350 grams rigatoni pasta
18 pieces beef meatballs
Sauce:
1/4 cup tomato paste
1 can(28 oz) crushed tomatoes
2 tablespoons olive oil
1 yellow onion, chopped
3 cloves garlic, chopped
1/4 cup Parmesan cheese, grated
1/4 cup parsley, finely chopped
1/4 cup basil, finely chopped
1/4 cup red wine
1 beef bouillon
1 tablespoon sugar
salt and pepper to taste
Procedures:
Part 1
1. In a large pot, prepare the pasta based on cooking instructions. Set aside.
Part 2
1. In a frying pan, heat cooking oil and fry meatballs for about 5-10 minutes depending on the size or until color turns to golden brown. Drain and set aside.
Part 3
1. In a sauce pan, heat olive oil on medium heat. Saute onions and garlic.
2. Add diced tomatoes, tomato paste, basil and parsley then stir to blend.
3. Reduce heat and simmer for about 10 minutes. Stirring occasionally.
4. Add red wine, beef bouillon, Parmesan cheese, adjust seasoning with salt, pepper and sugar according to taste.
5. Add meatballs and gently stir then simmer for another 5 minutes. Stirring occasionally.
Part 4
1. Prepare pasta on pasta tray, add sauce and meatballs, sprinkle with grated Parmesan cheese, garnish with remaining parsley. Serve.