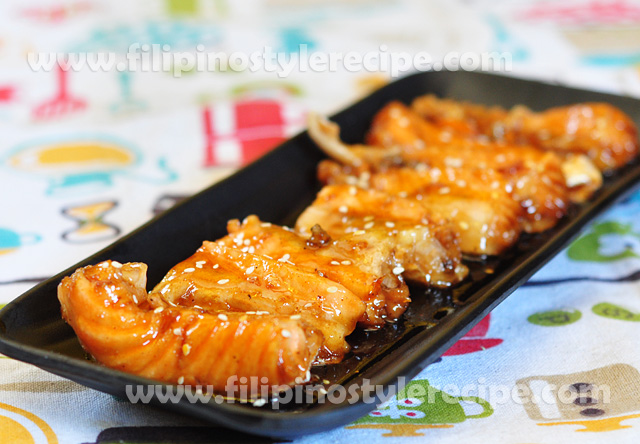 Ingredients:
500 grams Salmon belly, cut into serving pieces
3 tablespoons vegetable oil
4 tablespoons lemon juice
1 teaspoon sesame seeds
2 tablespoons chopped spring onions(optional)
Sauce:
4 tablespoons teriyaki sauce
2 tablespoons oyster sauce
1 tablespoon brown sugar
2 tablespoons honey
1 teaspoon Spanish paprika
2 teaspoons grated ginger
1/2 teaspoon sesame oil
1/2 teaspoon cinnamon powder
Procedures:
Part 1
1. In a bowl, marinate salmon belly in lemon juice for 30 minutes inside the fridge. Drain and set aside.
Part 2
1. In a non-stick pan, heat oil then fry salmon belly until light brown.
2. Pour sauce mixture and chili flakes then simmer over medium heat until the sauce reduce in half.
3. Transfer to serving plate then sprinkle with sesame seeds and spring onions.