Filipino Style Recipe: Broccoli and Cheese is a simple side item that can be served together with your favorite dish. It is consists of steamed broccoli topped with cheese sauce.
Ingredients: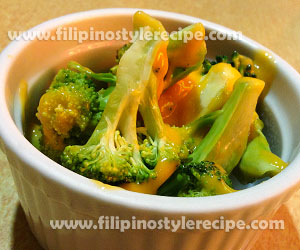 2 cups broccoli florets, steamed
Cheese Sauce:
2 cups sharp cheddar cheese, grated
1 teaspoon Dijon mustard
1 cup non-fat milk
1 tablespoon unsalted butter
2 tablespoon all purpose flour
1/2 teaspoon salt
Procedures:
1. In a saucepan, melt butter over low heat then add flour, milk, mustard and salt.
2. Whisk until begins to thicken. Add cheese then continue stirring until completely melted. Remove from heat.
3. Pour cheese sauce over broccoli. Serve.