Filipino Style Recipe: Ginataang Halaan with Sigarilyas is a simple yet delicious seafood dish that's commonly served by Filipinos. The usual way of eating clams is by using your hands then scoop the meat out of the shell using your mouth. This is usually served during rainy season and it's a good source of energy for lactating mothers.
Ingredients: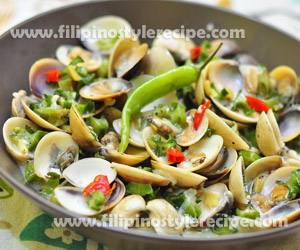 1/2 kilo fresh clams(halaan), Wash thoroughly and drain
1 cup coconut cream (1st extract)
1 cup coconut milk (2nd extract)
5 pieces sigarilyas (winged bean), chopped
3 cloves garlic, crushed
1 thumb-sized ginger, thinly sliced
1 onion, sliced
1 tomato, chopped (optional)
1-2 siling labuyo (bird's eye chili), chopped (optional)
2 pieces green chili (siling haba)
fish sauce(patis) or salt and ground pepper to taste
butter or cooking oil
Procedures:
Part 1
1. In a large bowl, place clams with water and salt. Cover and set aside for several hours or overnight. (This will allow the clams to expel sand).
Part 2
1. In a wok, melt butter then saute ginger, garlic and onion until translucent.
2. Add labuyo and tomatoes then continue sauteing for 3 minutes.
3. Pour coconut milk and simmer for 5 minutes until reduced. Keep stirring.
4. POur coconut cream and bring to boil then add in clams. Cook for 3 minutes.
5. Add in green chili and sigarilyas then cook for another 3 minutes.
6. Adjust seasoning with salt and ground pepper.
7. Continue cooking over a high heat until all clams shells are open.
8. Transfer to serving bowl then serve with steamed rice.