Filipino Style Recipe: Silvanas is a popular Filipino dessert made from a layer of buttercream sandwiched between meringue sheets then coated with ground biscuits.
Ingredients: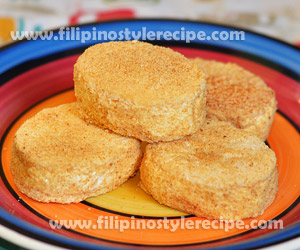 Meringue:
3/4 cup cashew nuts, grind until finely ground
6 egg large whites
1 tsp cream of tartar
3/4 cup granulated sugar
Buttercream:
1 cup salted butter, softened
1 cup confectioner's sugar, sifted
1/2 cup milk
Coating:
ground biscuit or crumbs
Procedures:
Part 1(Meringue)
1. In an electric mixer, beat egg whites and cream of tartar.
2. Add granulated sugar gradually then beat until it forms a stiff peak.
3. Add ground cashew nuts then fold.
Part 2
1. In a baking pan lined with parchment paper, Pour and level the meringue using a spatula.
2. Bake in a preheat oven over 300 degrees Fahrenheit for 30 minutes or until golden brown. Let it cool then refrigerate until consumed.
3. Then Use round or oval shape cookie cutter to cut into pieces.
Part 3(Buttercream)
1. In a mixing bowl, beat butter until creamy then add confectioner's sugar gradually.
2. Gradually add milk then beat until well combined.
Part 4(Assembly)
1. Spread buttercream on one meringue sheet.
2. Put another sheet on top.
3. Cover all sides with buttercream.
4. Roll and cover all sides with ground biscuit then take out the excess.
5. Refrigerate before serving.