Filipino Style Recipe: This is the simplest and easiest cookies I have baked so far and they are delicious. Buttery and creamy, soft and chewy, just my kind of cookies. The ingredients in the recipe are simple, you might already have them in your kitchen.
Ingredients: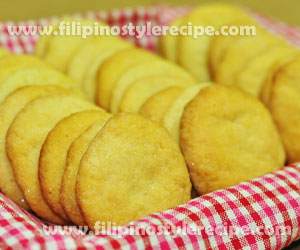 1 cup butter, softened
1 1/2 cups white sugar
1 raw egg
1 1/2 teaspoon vanilla
2 3/4 all purpose flour
1/2 teaspoon baking powder
1 teaspoon baking soda
sugar to roll the batter
Procedures:
Part 1
1. In a large mixing bowl, cream together the butter and sugar until smooth. Beat in egg and vanilla.
2. In another bowl, combine together the flour, baking powder, baking soda.
3. Gradually blend dry mixture into the butter mixture.
Part 2
1. Scoop a teaspoon of the dough then form into ball and roll into sugar.
2. Place into ungreased cookie sheets. Repeat until all the mixture are consumed.
3. Bake into preheated oven over 350 Fahrenheit for 8-10 minutes.
4. Remove from the oven and let it cool for 2 minutes before transferring them.
Tip:
1. The dough will expand and spread when baking so leave at least 2-3 inches in between.
2. If you want a thin cookie, you can press it a bit when putting into the cookie sheets.
3. The cookies might seem too soft when you take them out of the oven but they will firm up once they are cooled.