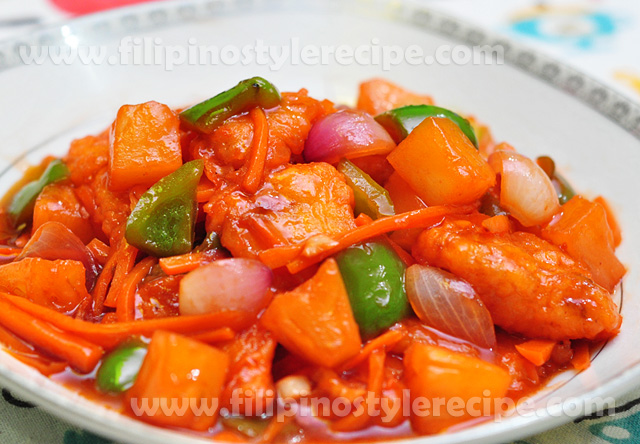 Ingredients:
500 grams cream dory fillet, cut into serving pieces
1 green bell pepper, diced
1 cup pineapple chunks
2 onions, quartered
2 tablespoons ginger, julienned
6 cloves garlic, minced
salt to taste
cooking or vegetable oil for frying
1 small carrot, peeled and sliced diagonally(optional)
Coating:
1 large egg, beaten
1/2 teaspoon salt
1/2 teaspoon ginger powder
1/2 cup cornstarch
1/4 cup water
Sweet and Sour Sauce:
1 cup water
1/4 cup pineapple juice
2 tablespoons brown sugar
2/3 cup vinegar
1/2 cup ketchup
2 tablespoons soy sauce
1 tablespoon sesame oil
1 tablespoon cornstarch(dissolved in 1/4 cup water)
Procedures:
Part 1
1. In a bowl, combine the cornstarch, egg, ginger powder, water, salt and fish fillet then stir to coat evenly.
2. Let sit for 15 minutes at room temperature.
Part 2
1. In a frying pan, heat cooking oil and deep fry fish pieces for 3 minutes or until golden brown.
2. Drain on paper towel and set aside.
Part 3
1. In a pan, heat oil and saute ginger, garlic, onion, bell peppers, pineapple chunks and carrots until done. Remove and set aside.
Part 4
1. In a same pan, combine water, sugar, vinegar, pineapple juice, ketchup, soy sauce and sesame oil. Mix well.
2. Let sauce boil over medium heat.
3. When boiling, add dissolved cornstarch and continue stirring until thickens. Adjust seasoning then turn off the heat.
4. Put back fish fillet and veggies then mix.
5. Serve immediately with steamed rice.