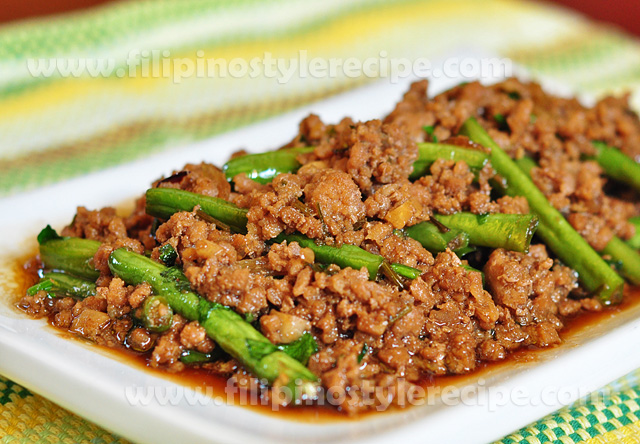 Ingredients:
1 bunch string beans(sitaw), cut into 2-inch lengths and ends discarded
1/4 kilo ground pork
3 cloves garlic, minced
1 medium onion, sliced
salt and pepper to taste
1 tablespoon vegetable oil
Szechuan Mixture:
1 tablespoon Worcestershire sauce
2 tablespoons soy sauce
2 tablespoons water
1 teaspoon vinegar
1 teaspoon brown sugar
1/2 teaspoon cornstarch
1/4 teaspoon dried chili flakes
1/4 teaspoon cayenne pepper
1 teaspoon sesame oil
Procedures:
1. In a box, combine szechuan mixture then stir until well blended. Set aside.
Part 2
1. In a pan, heat oil then stir fry string beans for 3-5 minutes or until crisp-tender. Remove and set aside.
2. In a same pan, saute garlic and onion until translucent.
3. Add ground pork then cook for 2 minutes.
4. Put back string beans then pour szechuan mixture. Adjust seasoning according to taste.
5. Simmer for 3 minutes or until almost reduced and thickened.
6. Transfer to serving plate then serve hot immediately.