Filipino Style Recipe: Kakiage tempura is another popular Japanese dish made of deep fried battered vegetables. Normally the vegetables peeled and cut into strips then dip into the batter to coat. Deep fried until golden brown then serve with your favorite dipping sauce.
Estimated time of preparation: 20-30 minutes
Estimated time of cooking: 5-10 minutes
Good for 5-6 fritters
Ingredients: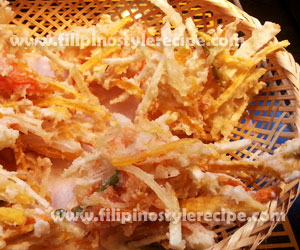 2 medium carrots
2 pieces sweet potato
2 large white onions
2 green capsicum
cooking oil for deep frying
Batter:
1 cup flour
2 tablespoons baking powder or cornstarch
1/4 teaspoon salt
1 egg yolk
1 1/2 cups iced water
Procedures:
Part 1
1. Cut into vegetables into strips, 3-4 inches long.
1. Combine all vegetables and mix well. Set aside.
Part 2
1. In a large bowl, combine flour, baking powder and salt then mix well.
2. In a separate bowl, mix egg yolk and iced water then pour into flour mixture.
3. Stir slightly and leave some flour unmixed. Add some ice to keep the batter icy cold.
4. Add vegetables and combine well into the batter.
Part 3
1. In a frying pan, heat enough oil then take a scoop of vegetable mixture using wire mesh strainer.
2. Deep fry for 5 minutes or until crisp and golden brown. Repeat until all the mixture are consumed.
3. Drain on paper towels then serve with dipping sauce.