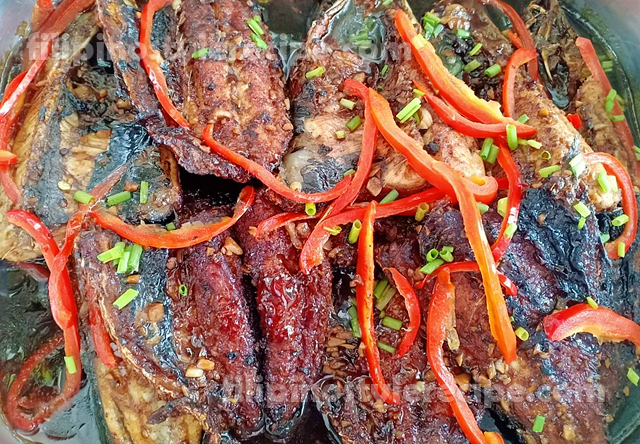 Ingredients:
8 slices boneless bangus(milkfish)
salt to taste
1/2 cup flour
cooking oil for frying
1 red bell pepper, cut into strips
spring onions, chopped
Teriyaki Sauce:
1/4 soy sauce
1/3 cup sugar
3 gloves garlic, minced
1 cup water
1 tablespoons cornstarch, dissolved in 1/4 cup water
Procedures:
Part 1
1. Season fish with salt, dredge into flour then shake off to remove excess flour.
2. In a pan, heat cooking oil then fry until golden brown. Drain on paper towel and set aside.
Part 2
1. In a sauce pan, combine teriyaki sauce ingredients then mix until blended.
2. Cook in a low heat then add dissolve cornstarch. Keep stirring until sauce thickens.
Part 3.
1.In a serving plate, arrange the fish then pour teriyaki sauce over the fish. Garnish with bell pepper and spring onions.
2. Serve immediately then steamed rice.