Filipino Style Recipe: mango salad is another type of salad made of unripe green mangoes, tomatoes, onion and cilantro then dressed with fish sauce and lime juice. Mango salad is a simple and easy to prepare that is commonly serve as appetizer or side dish specially during summer season.
Estimated time of preparation: 15 minutes
Good for 3-4 persons
Ingredients: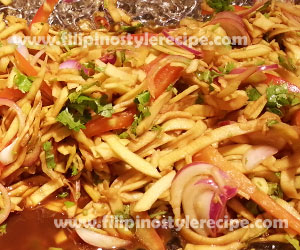 2 pieces unripe green mangoes, peeled and cut into strips
2 tomatoes, deseeded and chopped
2 red onions, chopped
1/2 cup fresh cilantro, chopped
2 teaspoon toasted peanut, chopped(optional)
1/4 cup fresh mint leaves, chopped(optional)
a dash of dried chili flakes(optional)
1 teaspoon cumin ground(optional)
Salad Dressing:
2 tablespoons fresh lime or calamansi juice
3 tablespoons fermented fish sauce
2 tablespoons honey(dissolved in 2 tablespoons water)
Procedures:
1. In a bowl, combine salad dressing until well blended. Set aside.
2. In a large bowl, mix all ingredients then pour salad dressing. Toss to combine then serve.