Filipino Style Recipe: Paksiw na tilapia is a quick and easy fish dish by Filipinos. The fish and vegetables cooked in a blend of vinegar and some spices like garlic, onion and ginger. Here is my Mom's recipe on how to cook the usual paksiw na tilapia. Enjoy cooking!
Estimated time of preparation and cooking: 20-30 minutes. Good for 3-4 persons.
Ingredients: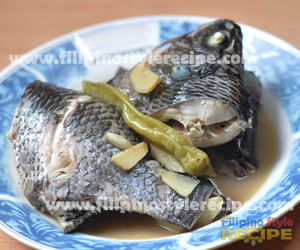 4 pieces medium-sized tilapia, cleaned, scales removed and cut diagonally into half
1 small garlic, pounded
1 onion, sliced
1 thumb-sized ginger, sliced and pounded
1/2 cup vinegar
1 cup water
1 teaspoon cooking oil
1 teaspoon peppercorn
2 teaspoon salt
3 green chili(siling haba)
5 small okra, heads removed
Procedures:
Part 1
1. In a pan, arrange tilapia, garlic, onion, ginger, salt and peppercorn.
2. Pour water, vinegar and cooking oil then add vegetable and green chili.
3. Cover and simmer in a medium heat for 10-15 minutes or until tender.
4. Remove from heat and Serve.
Notes:
1. You may also used eggplants or bitter gourd(ampalaya) as alternative vegetable.